Community and Service
Learning about the Faith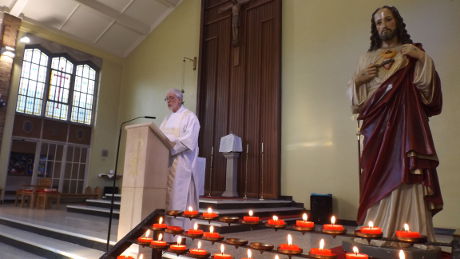 Would you like to find out more about the Catholic Faith?
Perhaps the first step would be to 'come and see' by attending one of our weekend Masses and talking to one of the pastoral team. Each year we also run a programme called 'Faith Talks' where we meet and learn about the teachings of the Church – in a friendly and gentle environment.
If you want to know more please contact us.

Bible Study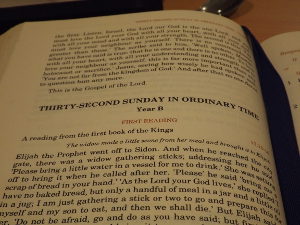 Bible Study has been established now for about three years and has become a very special time in the middle of the week, which offers spiritual enlightenment, friendship, a good deal of social discourse, but above all, a deeper understanding of God's word.
You are sure to find a warm welcome, a cup of something hot and just perhaps a deeper understanding of the greatest book ever written and what it means for you.
LIFE charity shop & care centre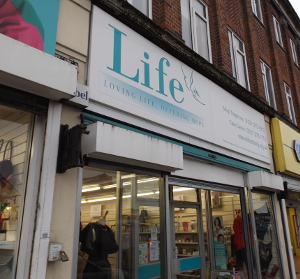 Through their network of Care Centres around the UK, LIFE's National Helpline or their Text to Talk service, LIFE Care provides non-directive counselling and support for anyone facing an unplanned pregnancy, suffering the loss of a baby or coping after abortion.
They can provide free pregnancy tests, baby clothes, equipment and other practical help to women and families in difficulty.  They also offer on-going emotional and practical help during pregnancy and after birth. LIFE have over 40 years' experience of helping women, men and families facing a range of pregnancy-related difficulties.  Their trained staff and volunteers won't judge and won't tell you what to do; they provide you with a safe space to explore your situation free from outside pressures.
Call the LIFE Care Centre in Kingstanding on 0121 373 1772. You can call the shop on 0121 243 1400. Visit the website at www.lifecharity.org.uk
How to find the shop:
LIFE is the trading name of LIFE 2009, a company limited by guarantee registered in England and Wales, no. 06786752 and registered national charity no. 1128355 in England and Wales and no. SC041329 in Scotland. LIFE is a Homes and Communities Agency Registered Provider our registration number is 4712
Tuesday Club
The Tuesday Cub meets every Tuesday after Mass from 9.30am to 11.30am for Tea, Coffee and a raffle, followed by a game. New members are always welcome, so come down to the Guild Room, behind the Church (with 50p), for a meal, some fun and good company
Bingo Club
Bingo Club is on Thursday Evenings at the St John's Centre from 7.00pm to 8.30pm
ladies Walking Group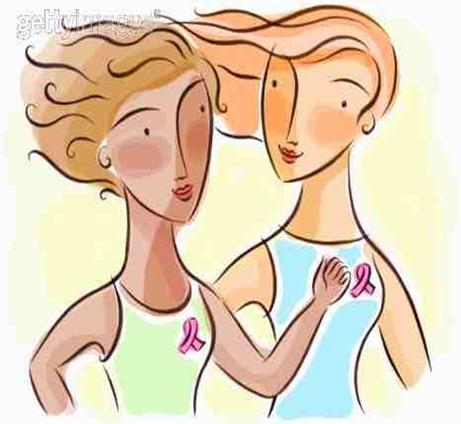 The Christ the King Ladies walking group meets weekly every Thursday from Springtime (March/April) to the end of September. Please contact Noran Flynn on 07500 882936 for details.
The group, which is usually about six to ten ladies strong walks around three to four miles in Sutton Park to increase fitness, relax, have fun and enjoy each other's company.
S. V. P.
There is an S.V.P group that works with people in need. It is named after Saint Vincent de Paul who dedicated his life to God and the poor. The group meets on alternate Mondays and does work in between meetings. This work can include working with young families, visiting older people or the sick. All members have security checks made on them as do other volunteers working with children or vulnerable adults. The SVP is always looking for more volunteers.

More information about St Vincent de Paul can be found here.

Contact Theresa Wlkin at Theresa@christ-theking.org
Youth Ministry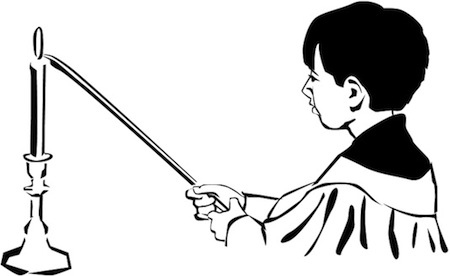 Throughout the year we offer other opportunites for young people to get involved. These include:
Youth choir - the choir consists of teenagers who sing at the 10.00 am Mass each Sunday.
Altar servers - numbering more than 30. They are aged 8 to 24 and greatly enrich our prayer and worship every weekend. We also do additional social activities with them.
New Heights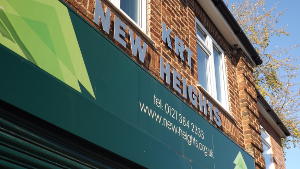 This community project was founded by the church to do the work of the Gospel, binding up hearts that are broken and bringing the Good News to the poor. Now a completely separate entity and independent charity, it is mostly run by volunteers working with people living in challenging circumstances. These volunteers believe that Christ reaches out to them and they must try to do the same.
A wide range of services are offered to anyone in need of them irrespective of faith, race, ability, sexuality or gender. For more information follow this link:
Kerry Boffin is the Project Manager on
0121 386 4345
Joanne Field is Volunteer Co-ordinator at Joanne.field@new-heights.org.uk Tel: 0121 384 2333 or 07883 021041
Charity Registration No. 1120869 Company Registration No. 06021283 (England and Wales)
How to find New Heights and the St. John's Centre, which is a few yards away, next to the Church:
Thursday Luncheon Club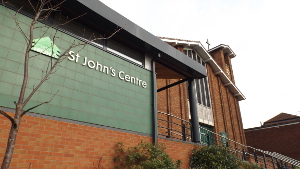 This is our seniors club. For £2.00, a good lunch and a spot of entertainment are had by one and all in the St John's Centre, next to the Church. New members are always welcome.
Alcholics Anonomous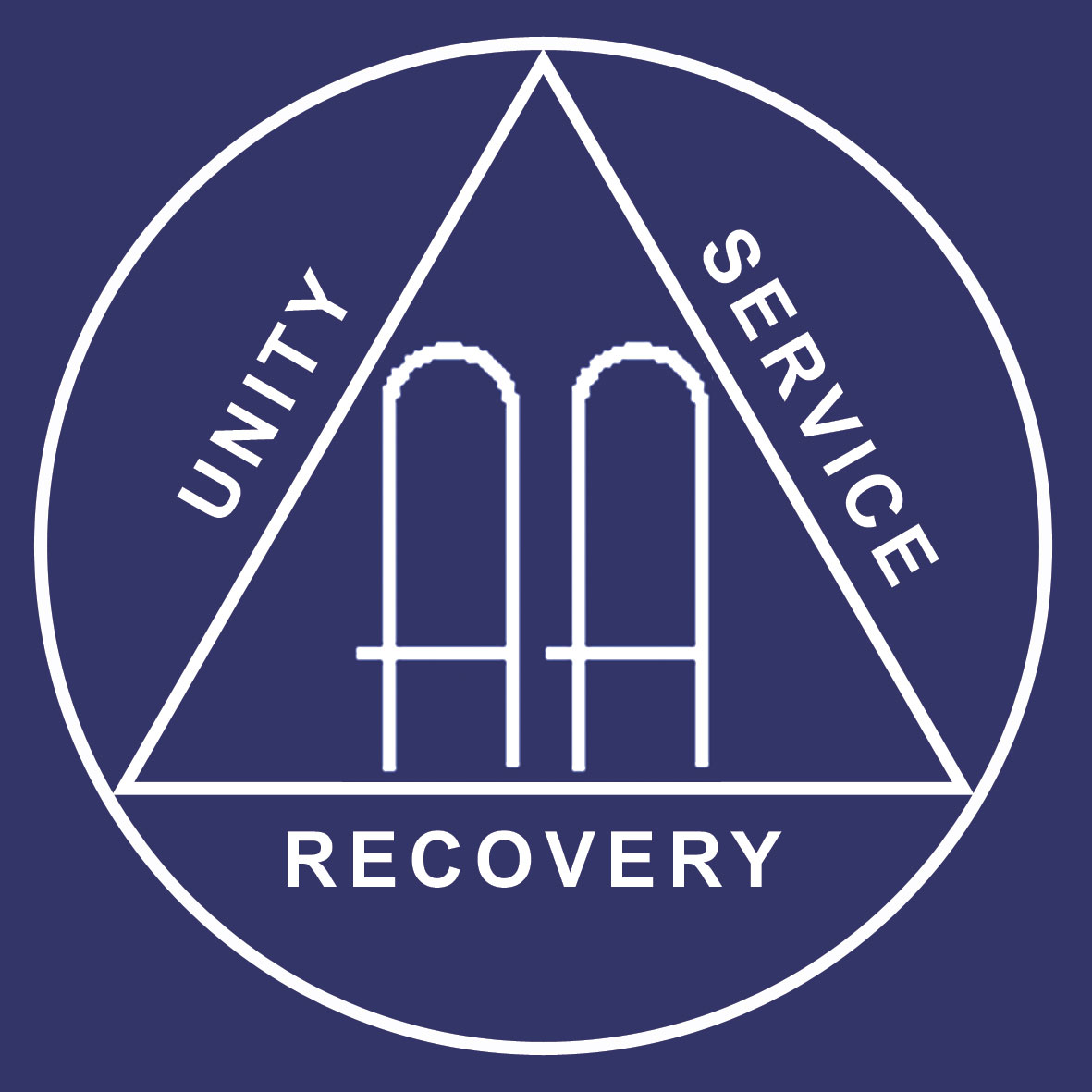 Alcoholics Anonymous is a fellowship of men and women who share their experience, strength and hope with each other that they may solve their common problem and help others to recover from alcoholism.
The only requirement for membership is a desire to stop drinking. There are no dues or fees for AA membership; we are self-supporting through our own contributions.
AA is not allied with any sect, denomination, politics, organisation or institution; does not wish to engage in any controversy; neither endorses nor opposes any causes. Our primary purpose is to stay sober and help other alcoholics to achieve sobriety.
AA meet every Saturday evening at 8.00pm in the Guild Room
Al-Anon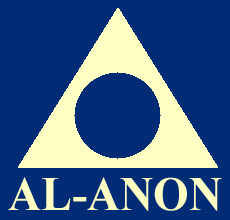 Al-Anon Family Groups provide support to anyone whose life is, or has been, affected by someone else's drinking, regardless of whether that person is still drinking or not. For some of our members, the wounds still run deep, even if their loved one may no longer be a part of their lives or have died.
We believe alcoholism affects the whole family, not just the drinker. We are an international organisation with over 800 support groups in the UK and Republic of Ireland. Al-Anon is a fellowship of relatives and friends of alcoholics who share their experience in order to solve their common problems.
Al- Anon meet every Monday evening at 8.00pm in the Guild Room.